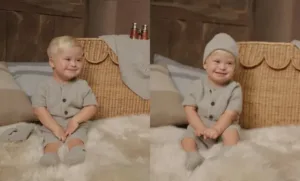 Banana Republic has introduced its BR Baby collection, which features a baby boy with Down syndrome, demonstrating the company's dedication to inclusivity and diversity. The spokesperson for Banana Republic emphasized the importance of belonging and being celebrated for who you are, stating, "We want to celebrate diversity in all forms, and in the casting for BR Baby, we saw a perfect moment to move this forward."
BR Baby draws inspiration from Banana Republic's safari-inspired heritage and offers a gender-inclusive 40-piece collection for sizes 0-24 months. This collection includes various items like sleepwear, bodysuits, accessories, knit tops, and sets, allowing parents and babies to coordinate their looks.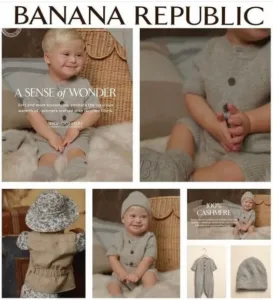 Banana Republic's initiative was praised by Changing the Face of Beauty, an organization advocating for equal representation of individuals with disabilities in the media. They acknowledged Banana Republic's commitment to promoting diversity and inclusion, stating, "Way to go Banana Republic!!! You are #changingthefaceofbeauty."
This inclusive move by Banana Republic follows Victoria's Secret's decision to feature its first model with Down syndrome, Sofía Jirau, in a campaign for their Love Cloud collection. Both brands' initiatives aim to raise awareness and foster acceptance for individuals with Down syndrome, contributing to a more inclusive and compassionate fashion industry.