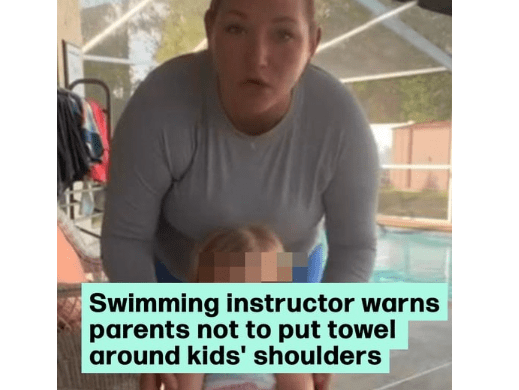 One thing is for sure; kids have a knack for getting themselves into dangerous situations just by having some fun. However, most parents are unaware that sometimes they put their children at risk of getting hurt. When it comes to pool safety. There is one thing all parents need to ensure they avoid doing, according to a swimming instructor. She went viral on TikTok for posting a video on pool safety. Many parents flocked to the comments section to thank her for her wisdom.
Pool Safety Guidelines
Teaching your kids to swim is usually at the top of the list of lessons a parent wishes their child to learn. However, as they learn the different aspects of life, there are many dangers that your children will confront. Especially when it comes to learning to swim, several techniques can be implemented to enhance pool safety for children.
These will ensure your child gets a safe and enjoyable swimming experience that can carry them through the rest of their lives. Pool safety comes in many forms, but most people assume it's mainly for when your child is in the water. Most parents do not even realize the dangers that lurk when their child gets out.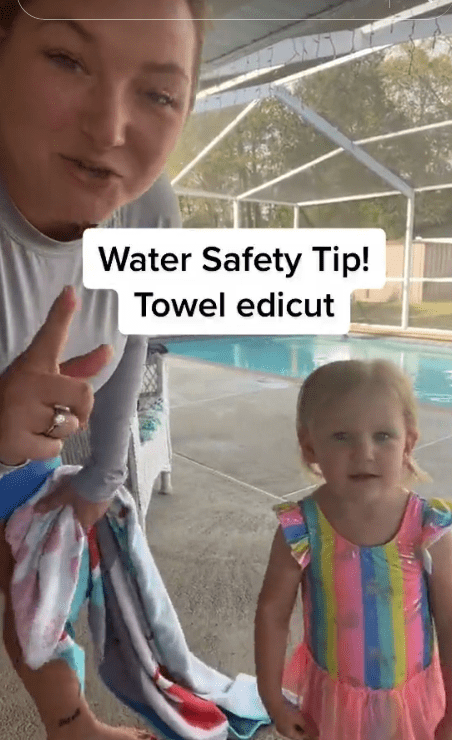 Certified swimming instructor Nikki Scarnati, who goes by the TikTok handle, @scarnati.swim, has posted videos of her young students learning to swim in a safe environment. Additionally, she includes videos with pool safety tips and tricks for all parents to practice at home. One of the major risks parents tend to fall into is how they wrap their children in a towel when they get out of the water. Children tend to get cold very quickly and come running to their parents, shivering intensely. A parent's first instinct is to wrap them up in a towel to keep them nice and warm. However, they do not realize the peril they are placing their children under.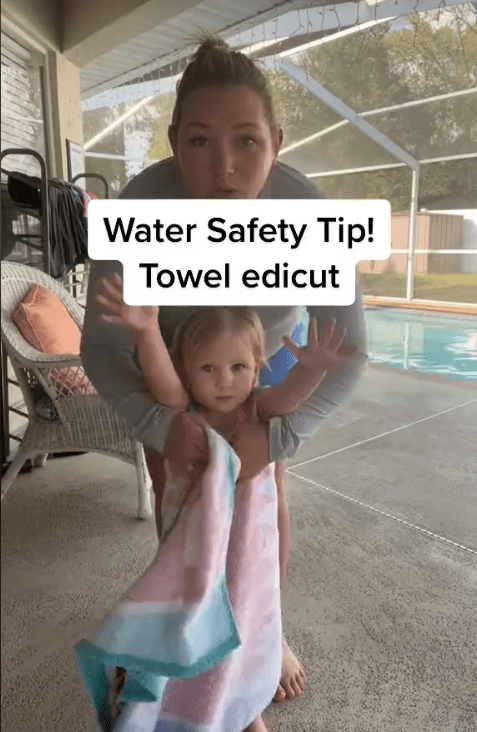 Do Not Wrap Your Child in a Towel
She made a TikTok video showing an example of how parents instinctively wrap their children in a towel versus how they should be doing it. According to Nikki's pool safety recommendations, wrapping your child in a towel by placing it around their shoulders puts them at risk of drowning. She starts off the video with her own child in the clip. "Hey guys," she says. "I'm going to show you the proper way to put a towel around your child. I see it happen so many times, and I myself, as a parent, did it without even realizing it was a thing."
She first showed her viewers the way parents "naturally" want to wrap their children's arms into the towel. She quickly says, "No." Next, she displays the more appropriate method for wrapping your children in a towel, in terms of pool safety. She asks her child to lift her arms up and wraps her in the towel with her arms above it so that they are free. Nikki explains that this way, your child will be able to use their arms to swim to safety should they fall in the pool. "Put the towel underneath their arms," says Nikki. "That way, if they end up in the water they still have access to their limbs to self-rescue and they're that much safer."
Comments on Nikki's Pool Safety Tip
One person asked what happens if their child moves the towel to cover her shoulders if she's cold. Nikkie replied: "You can wrap it and tuck it in the back so they can still move. Or opt for a different style towel or a Teri cloth towel robe."
One person commented on another benefit to this tip from Nikki: "Also- if they trip, they can catch themselves before hitting the ground." While many others agreed and applauded her for the great tip in pool safety. One said, "Good tip thank u."