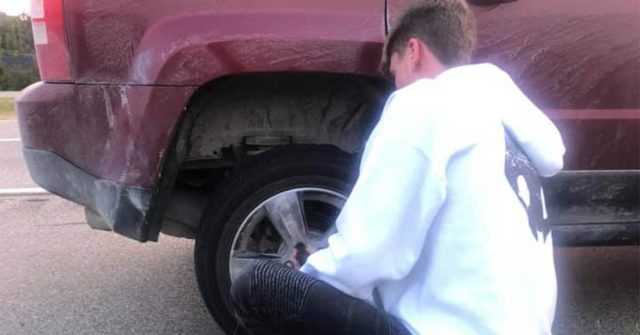 When Kayla Kondziolka got a flat tire on the highway, a kind young stranger stopped his bike and changed it for her.
Kayla, a young mother, was deeply grateful for the young man's act of kindness as she stood on the side of highway 53.
"I'm not sure if anyone knows this young man or his parents. I don't know his name, but he is 21 and graduated from Romeo. If his parents are reading this, I just need to say you raised him right and you are so lucky!" Kayla wrote.
Kayla was driving home from work when she noticed her tire was flat. After she pulled to the shoulder and came outside to inspect the tire, a young man in a white sweatshirt pulled over on his motorcycle and asked her if he could help.
"Last night, I got a flat tire on 53 while on my way home from work, and he stopped on his crotch rocket to change it for me — in his white sweatshirt and all!"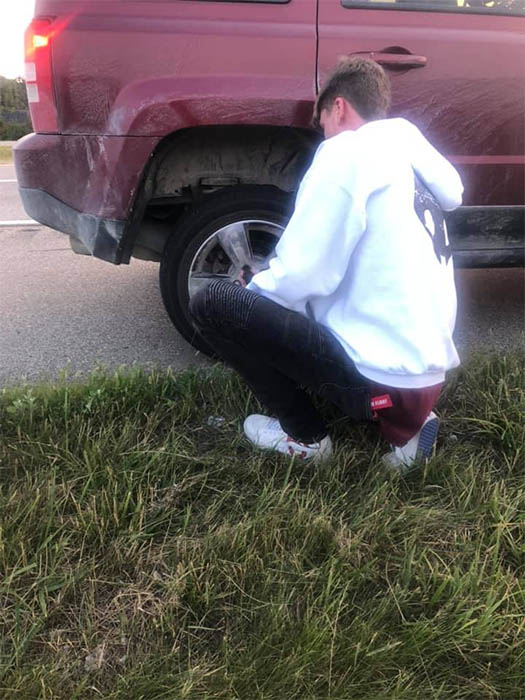 Kayla tried to pay the young man for helping her take off the flat tire and put on the spare, but the young man refused to accept her money.
"I tried to offer him money but he wouldn't take it. I just hope somehow this makes it to him or his parents, so they know how truly thankful I am he stopped! ?"
Thousands of hearts online have appreciated this young man's act of kindness.
"Absolutely Awesome Young Man!" wrote Betty D.
"What an amazing young man. His parents should be so proud. This generation of young have a lot of great young men and women. God Bless them and the parents who raised them," shared Kathy D.
"Is anyone else impressed that a teen knows how to change a tire? I feel like some adults don't even know how these days! Bravo young man!" wrote Jessica S.
"I love how much this story is being shared. ? I believe this young man's name is Evan, and it sounds as if it's fairly common practice for him to be looking out for, and helping, those around him- a good example and reminder to all of us!" commented Abbie S.
"We have a lot of great young people. No one says much about them. This young man has great parents they taught him right. And thank you." wrote Debbie T.