With a stellar career spanning decades, this TV icon has charmed audiences worldwide and graced our screens with unforgettable performances.
Yet, beneath the glittering surface of his stardom lies a remarkable tale of triumph over adversity, a journey that began in the most challenging of circumstances.
He was once labeled "dumb" by his parents and struggled with reading until an unexpected revelation at the age of 31 uncovered a hidden disorder that changed the course of his life.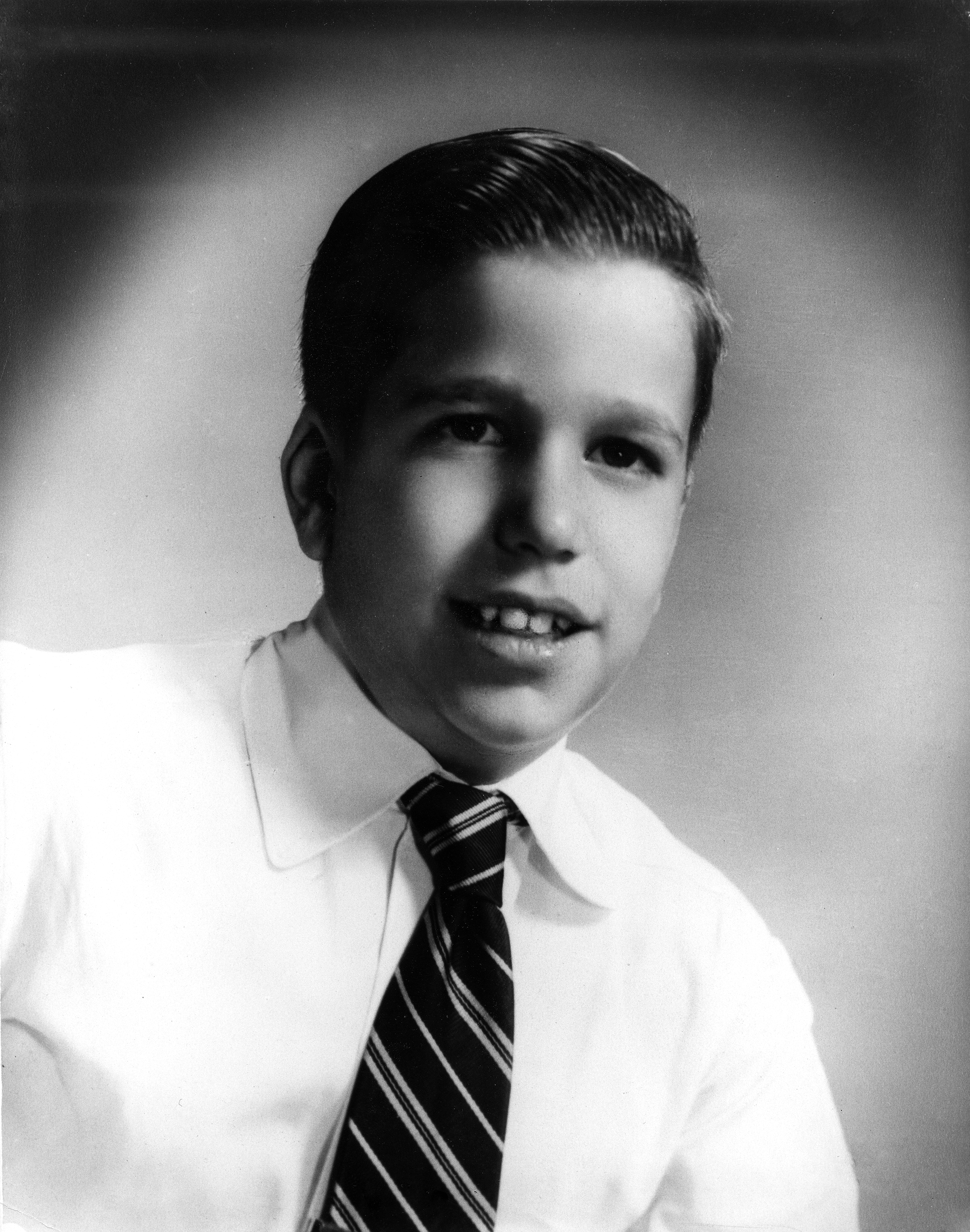 Picture taken circa 1970 | Source: Getty Images
This TV star has graced our screens for years, becoming a beloved figure in the world of entertainment. His charisma and talent have captivated audiences across the globe, making him a household name.
But the path to this esteemed position was far from smooth; in fact, it was a journey fraught with obstacles and adversity that would have deterred most. Behind the scenes of his illustrious career lies a story of a challenging childhood far removed from the glamorous life he would later lead.
My 10 year old self is in there somewhere pic.twitter.com/4hvln7zsi6

— Henry Winkler (@hwinkler4real) February 23, 2021
The Journey of a TV Icon
Born into a Manhattan apartment to immigrant parents who had escaped the horrors of Nazi Germany, this TV star's early years were marked by difficulties that could have easily shattered a less determined spirit. The "Happy Days" actor did not have a very happy childhood. In fact, he only ever heard his mother laugh twice. Sharing his experience during childhood, he said:
"When children at school used to say to me, 'My parents and I are going on a trip' or 'We had so much fun together,' I didn't even know how that was possible."
I'm twelve, it's a Saturday night. My parents are going out. I'm supposed to stay home and do my homework. I'm NOT supposed to watch TV. My mother, being a great cook, heats up a TV dinner. There is never enough stuffing. #BeingHenry https://t.co/mQINoe5UqV pic.twitter.com/QDryJ3GYzT

— Henry Winkler (@hwinkler4real) June 14, 2023
He grappled with a problem that went unnoticed for far too long—a problem that would define his early life and affect his relationship with his parents, his teachers, and even himself. He was surrounded by an atmosphere that was far from nurturing, and his parents' expectations were exceedingly high.
As a child, he had a severe reading disorder, an affliction that set the stage for a tumultuous upbringing. Troubles with reading plagued him from an early age, yet he was met with a lack of understanding and support. Instead of encouragement, his parents misconstrued his genuine struggle as laziness.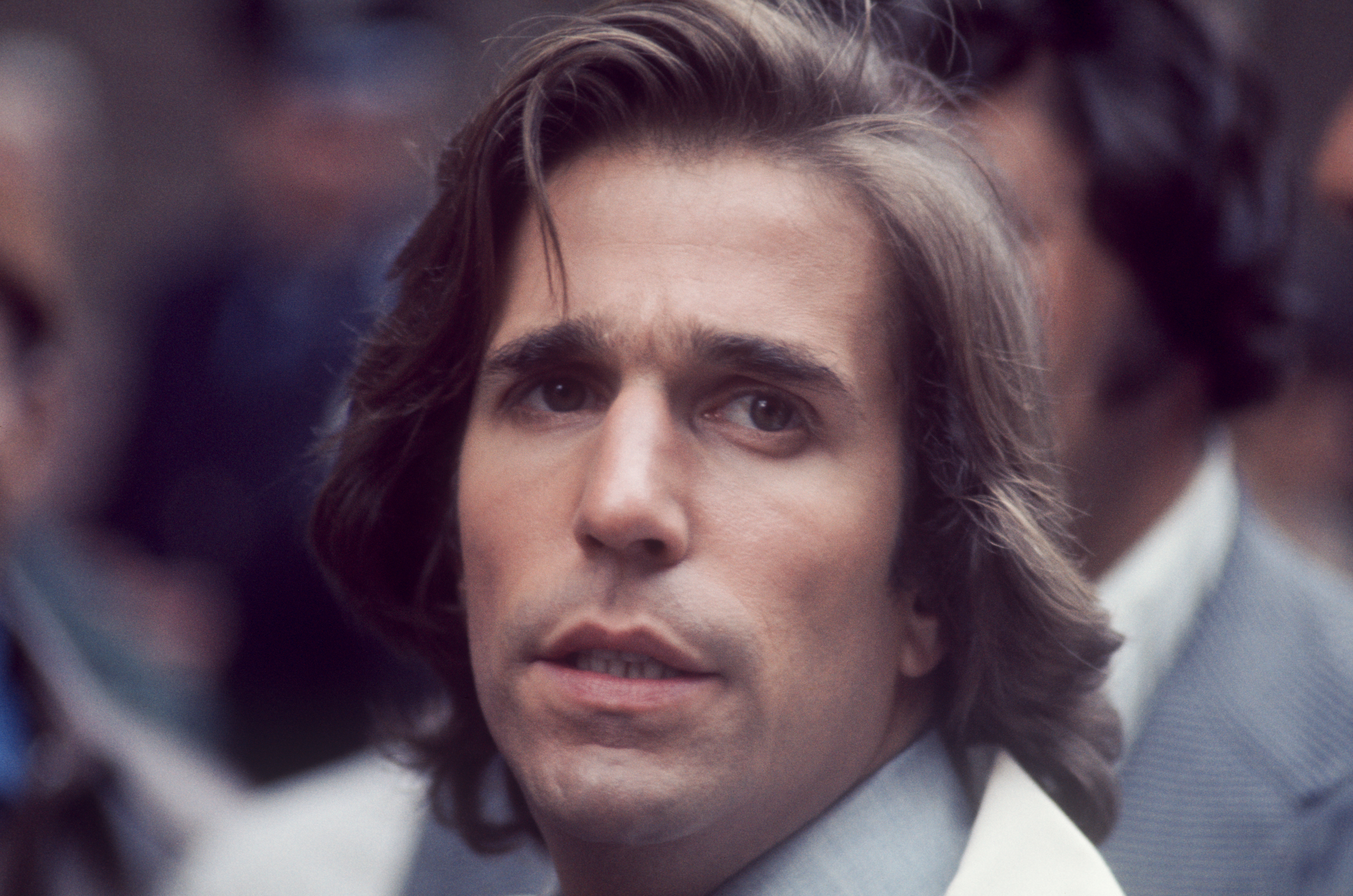 During the filming of "Hero" in 1977 | Source: Getty Images
Labels and insults became a constant presence in his life, even from those closest to him. His parents gave him a term of endearment that masked the frustration they felt. During an interview, he shared:
"They had an affectionate phrase for me called Dummo Hund. That means dumb dog."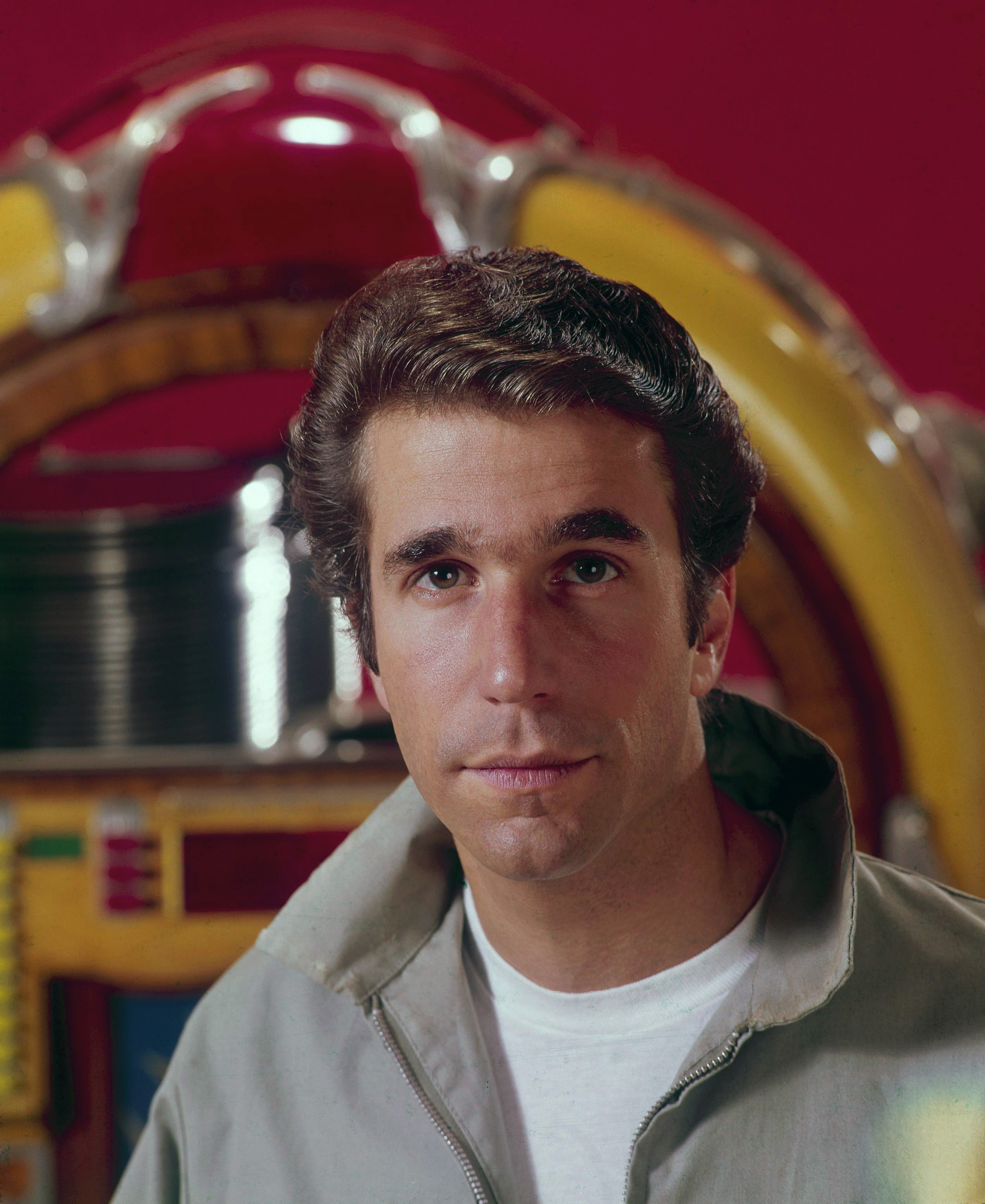 In a promotional photo for "Happy Days" in 1974 | Source: Getty Images
The education system offered no respite, echoing the sentiments of his parents. Teachers, too, believed that this young boy was merely underperforming due to a lack of effort, further exacerbating the internalized sense of inadequacy.
The consequences of these misunderstandings were profound, causing him to spend most of his high school years grounded. His self-image took a severe blow during these formative years as he endured the sting of hurtful labels and the weight of expectations.
.@Yale Rep as a student. Thought I was so funny. A teacher there didn't share my opinion. "If you don't stop joking around, I'm going to punch your teeth out." Laughs were fine, but the work must always be taken seriously. First headshot. #BeingHenry https://t.co/mQINoe5mBn pic.twitter.com/DBnAS1Q1V2

— Henry Winkler (@hwinkler4real) June 28, 2023
The Path to Stardom
Undeterred by his challenging upbringing, the misunderstood Henry Winkler embarked on an ambitious educational journey. He displayed remarkable determination by applying to 28 colleges, demonstrating an unwavering belief in his own potential. He ultimately secured acceptance into two.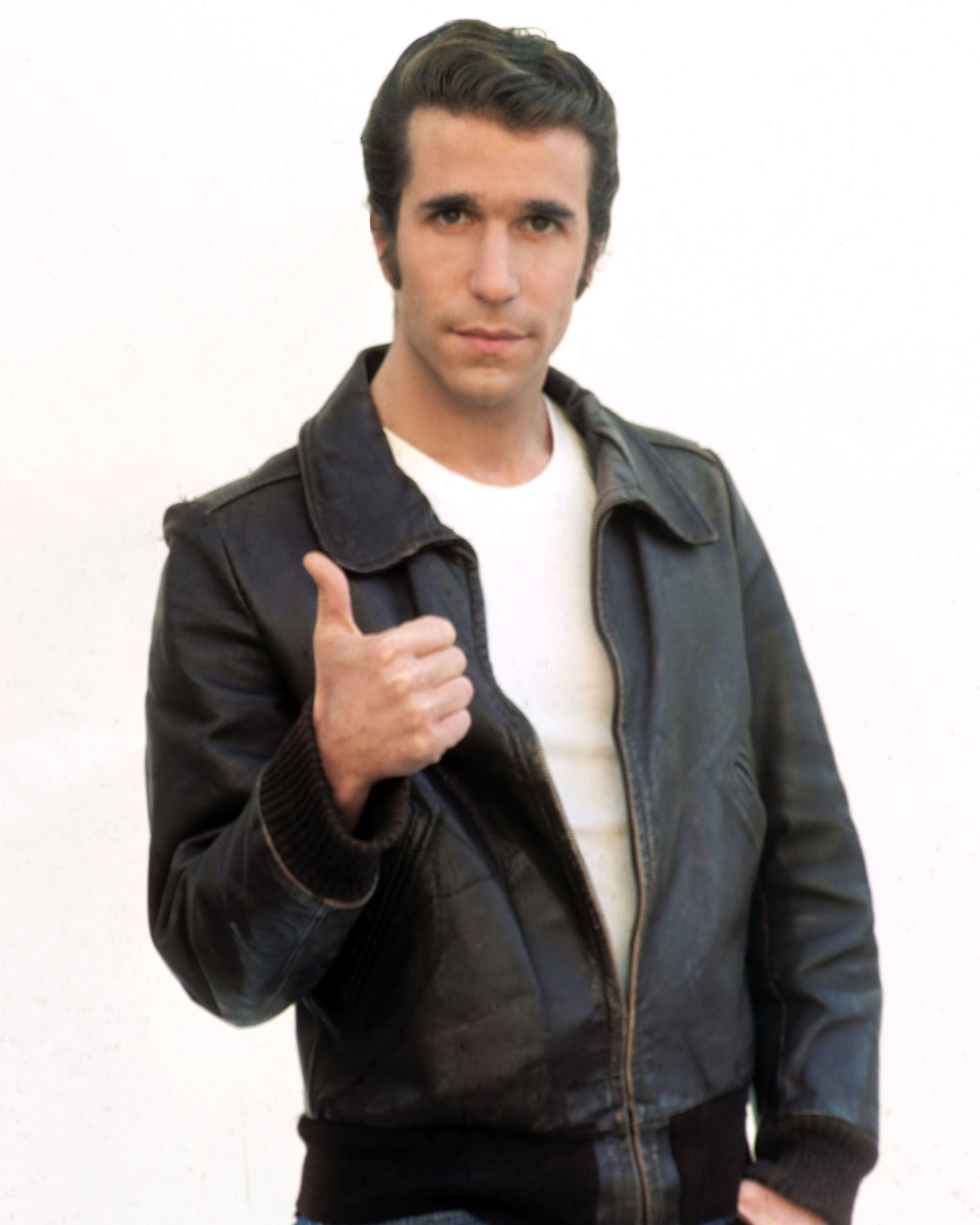 Henry Winkler, as the iconic Fonz, in a classic leather jacket and white tee, circa 1977, for the legendary series "Happy Days" | Source: Getty Images
But the culmination of his efforts materialized when he received a coveted acceptance letter from the prestigious Yale School of Drama. His audition, an improvised Shakespearean monologue, reflected his innate talent and set the stage for his future success.
Following his time at Yale, he ventured onto the stage and dabbled in commercials, slowly but steadily building a foundation for his acting career. By the age of 27, he had risen to become one of television's brightest stars, even though his dyslexia remained a formidable adversary.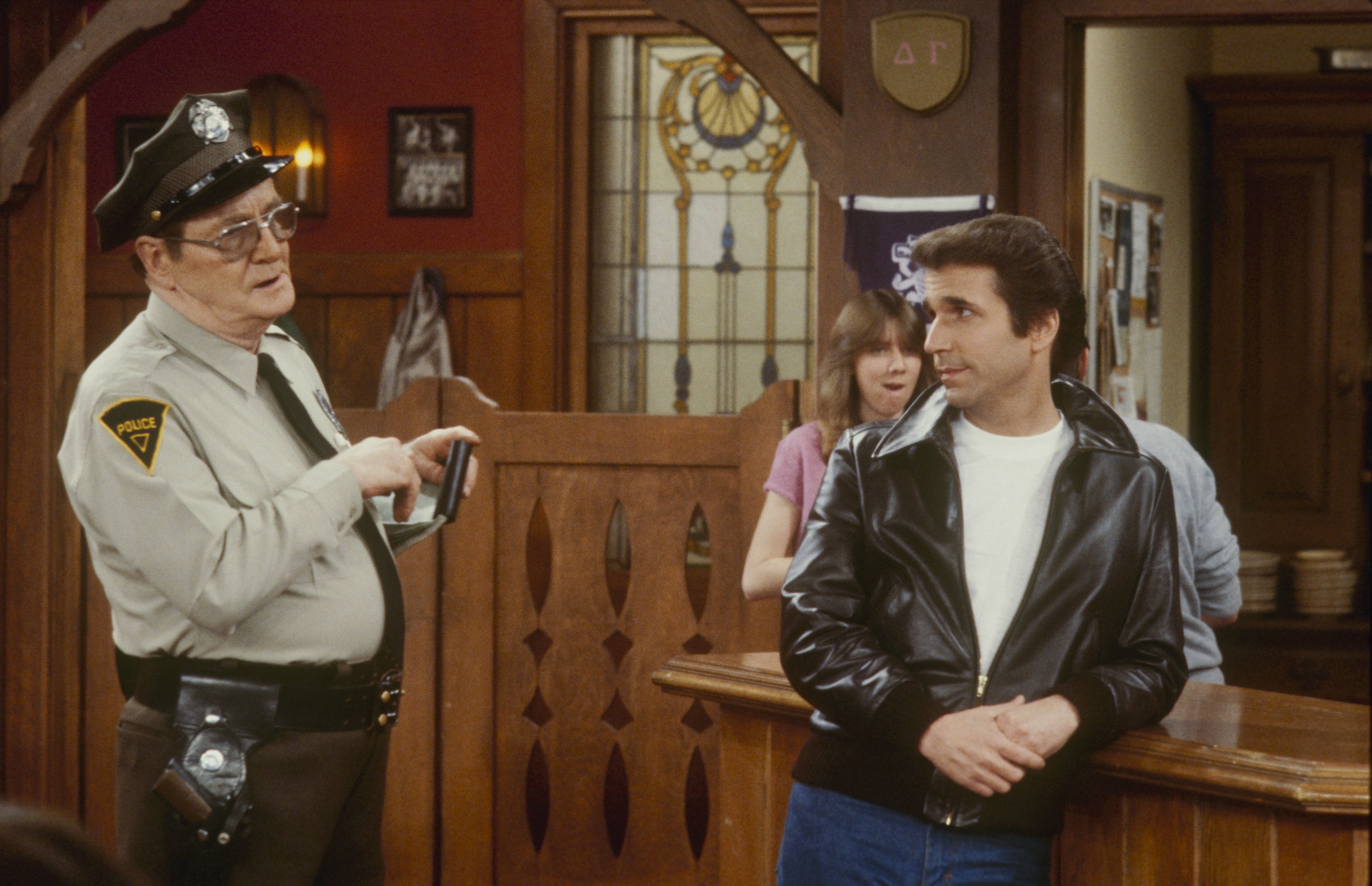 Henry Winkler in the "Happy Days" episode, "I'm Not at Liberty," on February 8, 1983 | Source: Getty Images
It wasn't only his reading that was affected but also his physical coordination, with simple tasks like riding a motorcycle proving challenging. Nevertheless, his acting prowess continued to shine, and his confidence on screen continued to grow.
The outside world saw a confident, smooth, and charismatic actor, but behind the scenes, he battled the invisible barriers his condition imposed. At one point in his career, he even refused the leading role in "Grease." When an interviewer asked him why, he commented with humor, "Because I'm an idiot." In reality, he was worried about being typecast.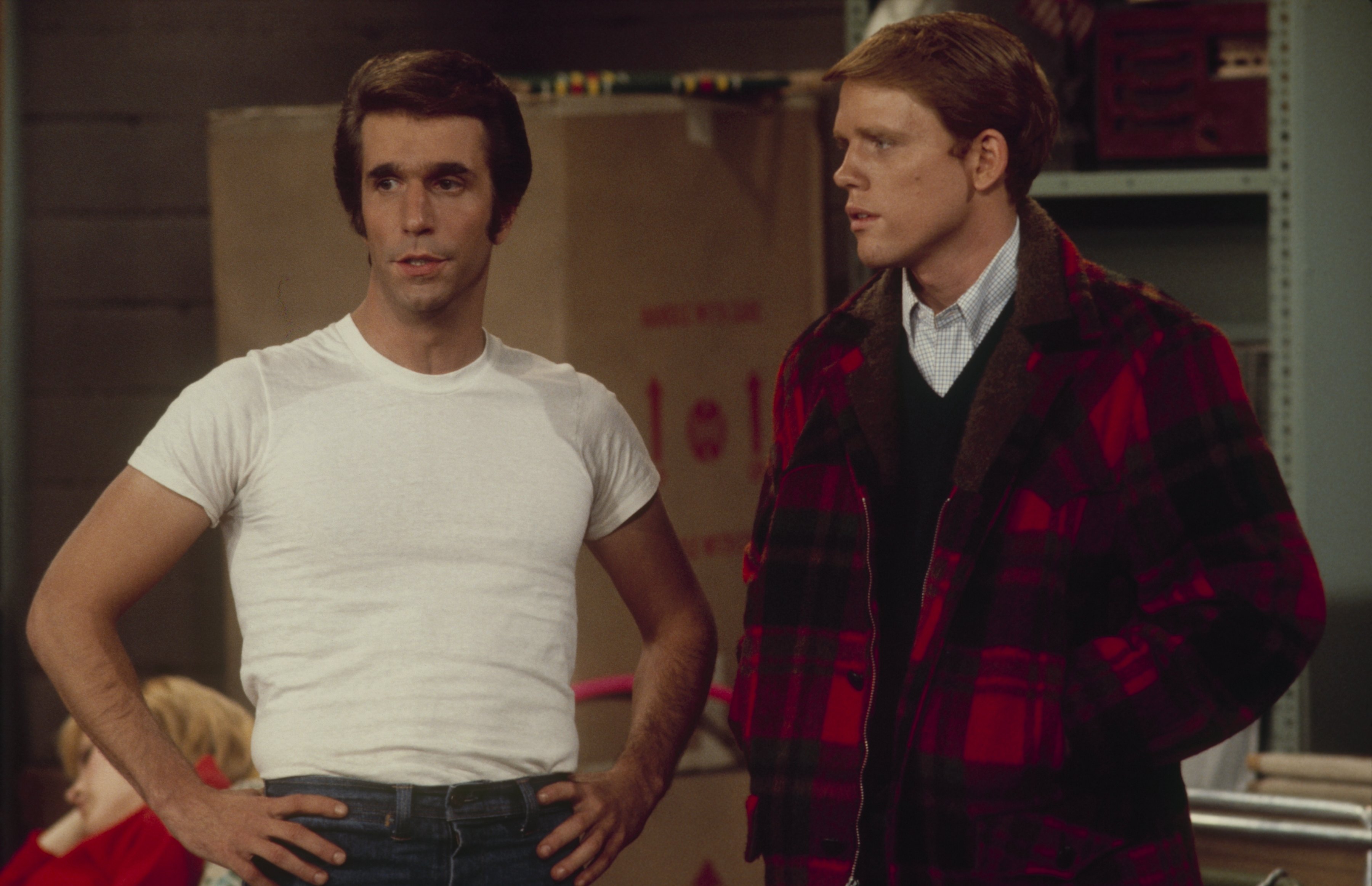 Henry Winkler in the "Happy Days" episode, "Fonzie Loves Pinky," September 21, 1976 | Source: Getty Images
The Life-Changing Revelation and Beyond
The turning point in his life came later than one might expect. It was at the age of 31, during his stepson's routine check-up, that the pieces of the puzzle fell into place. As they were having his stepson, Jed, tested for dyslexia, a realization dawned on him. The characteristics described by the experts matched his own struggles.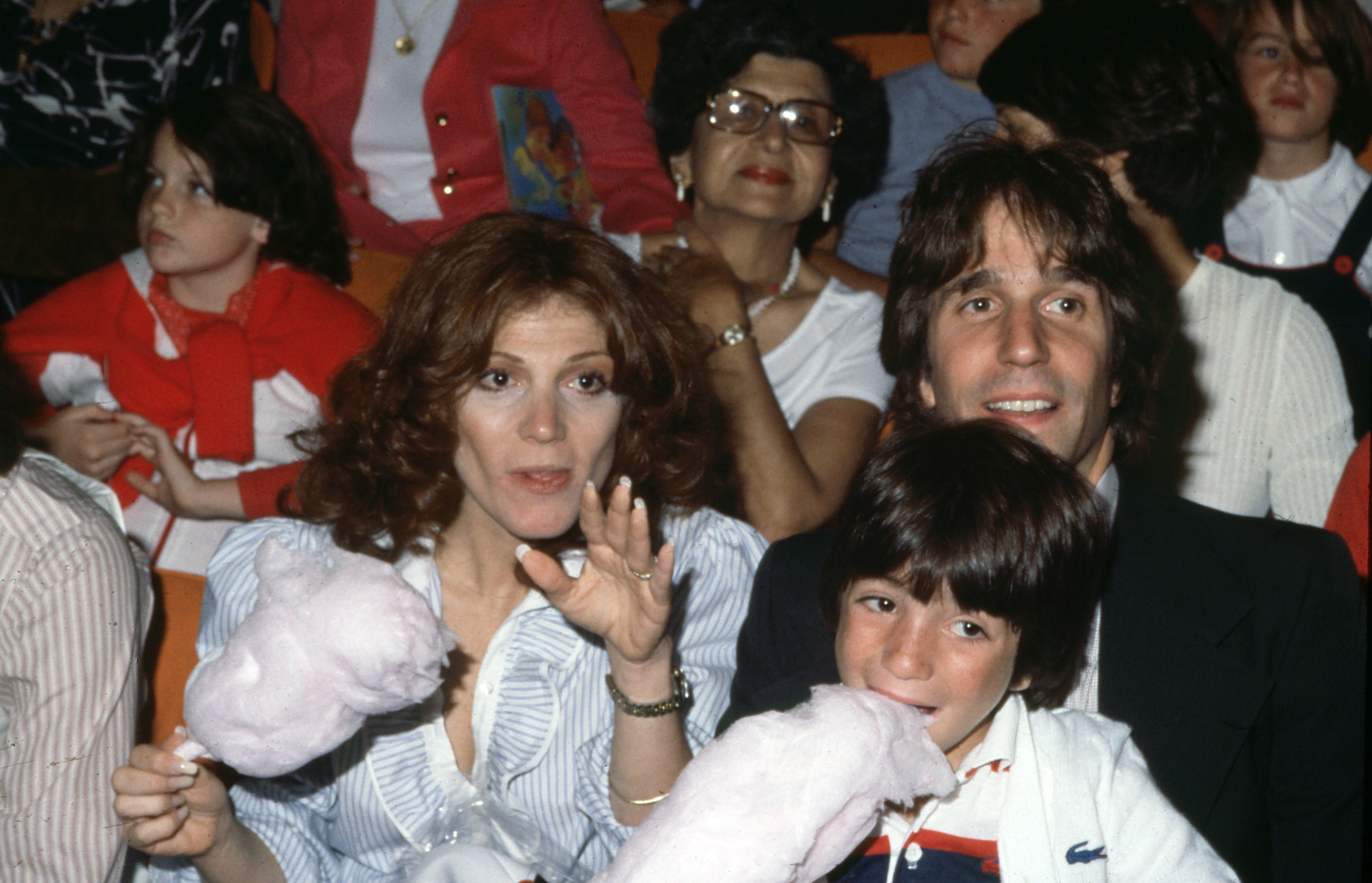 Henry Winkler, wife Stacey Weitzman, and stepson Jed Weitzman enjoying the Ringling Bros. and Barnum & Bailey Circus in 1979 | Source: Getty Images
The burden of dyslexia, a condition that had hindered his personal and professional life for so long, now had a name. Winkler's career journey was marked by improvisation and memorization, skills he honed to appear as if he were effortlessly keeping up. His reading disorder caused him a lot of pressure during auditions.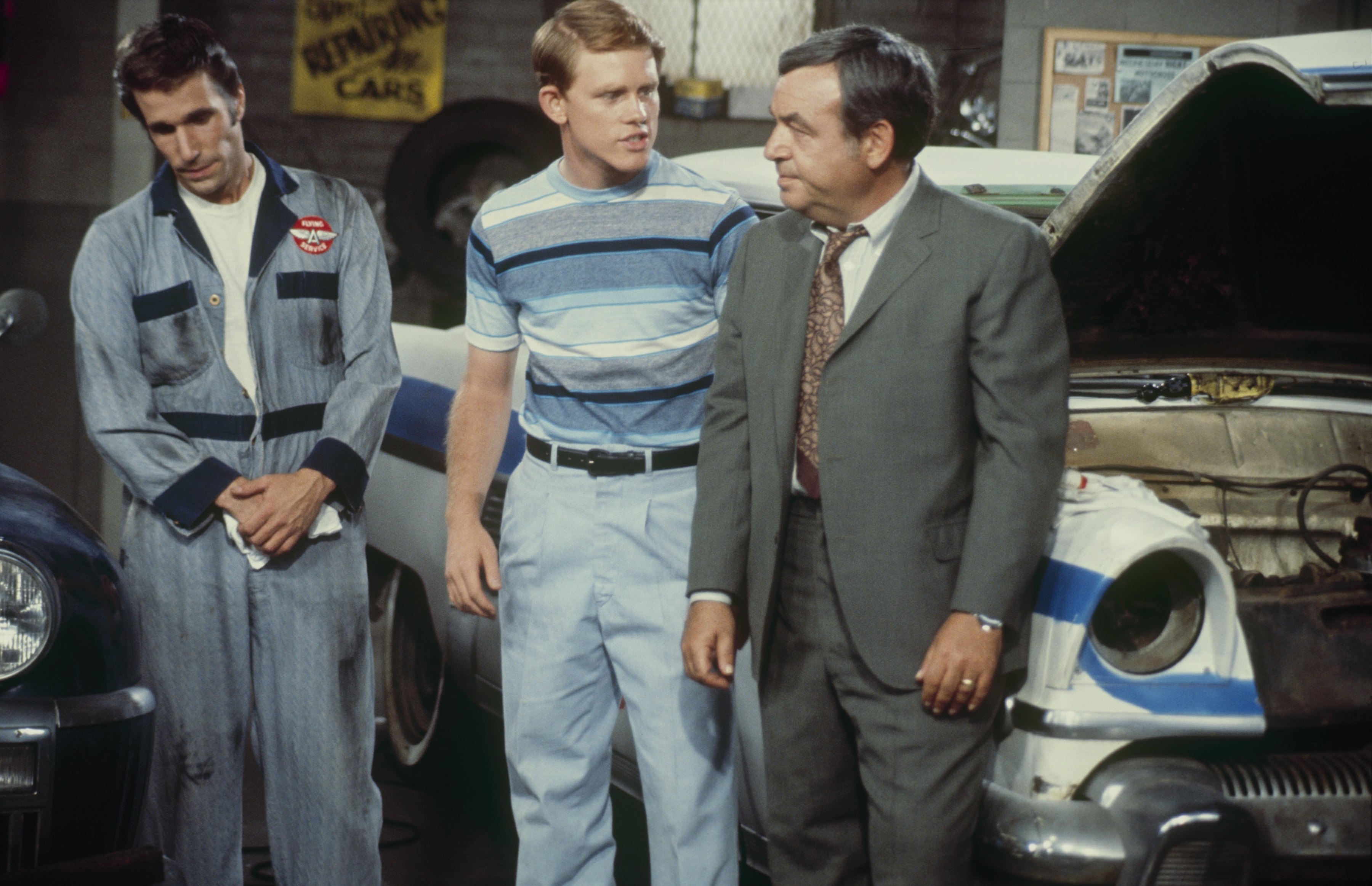 A snapshot from "Fonzie Loves Pinky," aired on September 21, 1976, in the TV classic "Happy Days" | Source: Getty Images
Memorizing scripts quickly became his strategy, as he found it challenging to read and act simultaneously. He even learned how to mask his perceived inadequacies with humor, and it worked. If the casting director or producers noted discrepancies between his performance and the script, he offered a simple explanation:
"I'm giving you the essence of the character."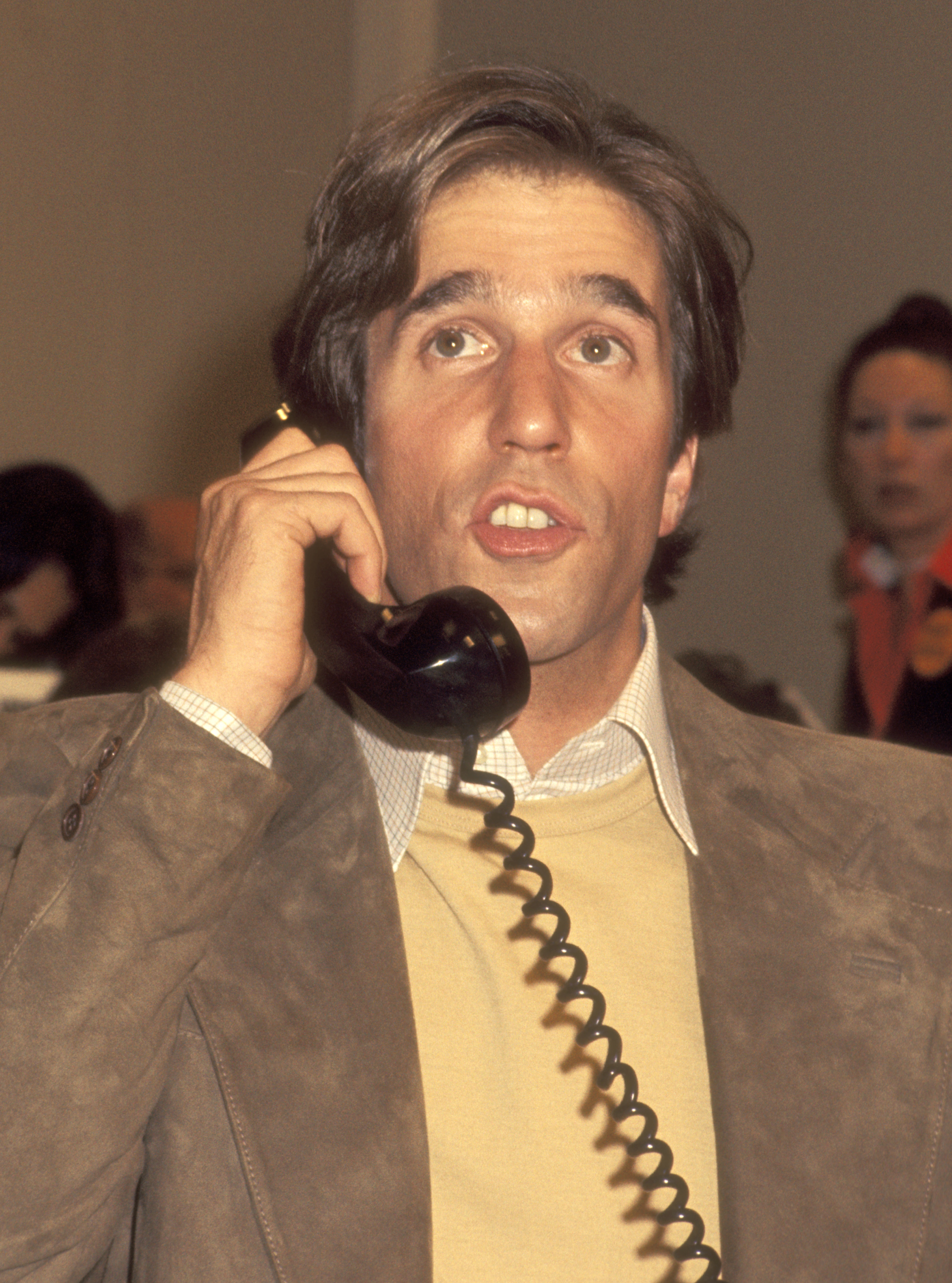 Henry Winkler at The Variety Club Telethon for Handicapped and Underprivileged Children on May 14, 1977, at KTTV Studios in Hollywood, California | Source: Getty Images
Life Beyond "Happy Days"
After the end of "Happy Days," the toughest chapter in Winkler's career began. Between 1983 and 1991, he faced a period of uncertainty, unable to secure acting roles. To fill the void, he ventured into producing and played a crucial role in creating the original "MacGyver" TV series.
.@AdamSandler always plays an underdog, on the outside looking in. He starts at the bottom and works his way up—the way I experienced my childhood and beyond. I think that accounts for our natural connection. Or it could be my hair. Preorder #BeingHenry https://t.co/mQINoe5UqV pic.twitter.com/wHIuTo3G15

— Henry Winkler (@hwinkler4real) September 13, 2023
This transitional phase in his career showcased his versatility and adaptability, solidifying his position in the entertainment industry. Post-"MacGyver," Winkler's career expanded in diverse directions. His talents extended beyond acting to include directing and producing, and his presence became a constant in the entertainment field.
So many of you have asked about my audiobook and yes! I'm reading it! I love being in the studio and am so excited for you all to hear my story in my own voice, as opposed to Donald Duck's voice. Preorder #BeingHenry https://t.co/mQINoe5UqV pic.twitter.com/YGO7txZgvf

— Henry Winkler (@hwinkler4real) October 2, 2023
He worked tirelessly in a multitude of movies and TV series, including the hit show "Arrested Development." Through all the ups and downs of his career and personal life, Winkler's personal life brought stability and joy. His wife, Stacey Weitzman, whom he met during his "Happy Days" era, became a source of unwavering support.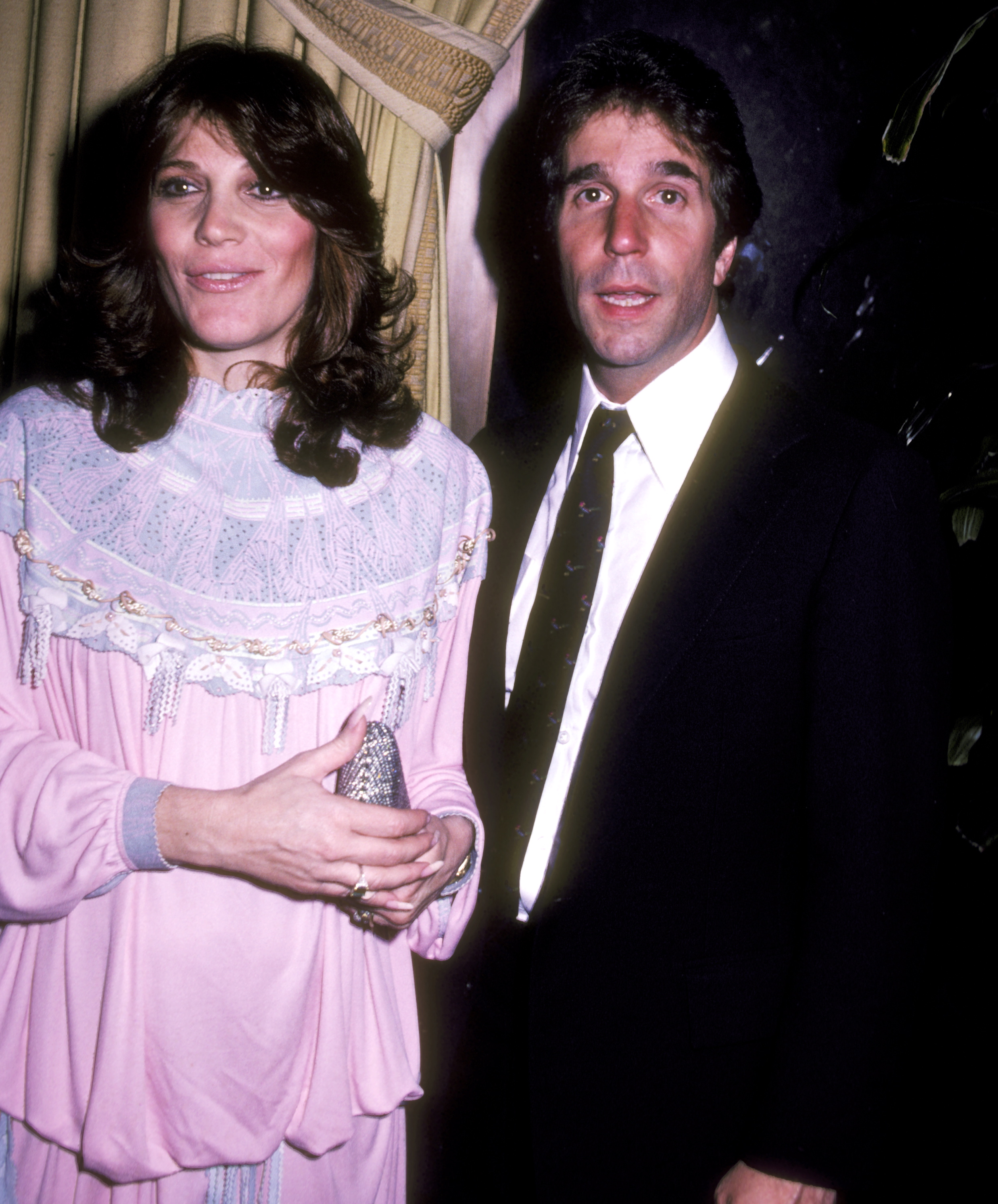 Henry Winkler and wife Stacey Weitzman at the 1983 Career Achievement Award presentation on March 13, 1983, at Beverly Wilshire Hotel, Beverly Hills, California | Source: Getty Images
When they first met in 1976, Weitzman had a four-year-old son. Within weeks, she and her young son moved in with Winkler, and their journey together began. The couple went on to have two more children, Zoe and Max, building a close-knit and loving family. While Winkler pursued his career in the entertainment industry, Weitzman took on the role of caring for their children.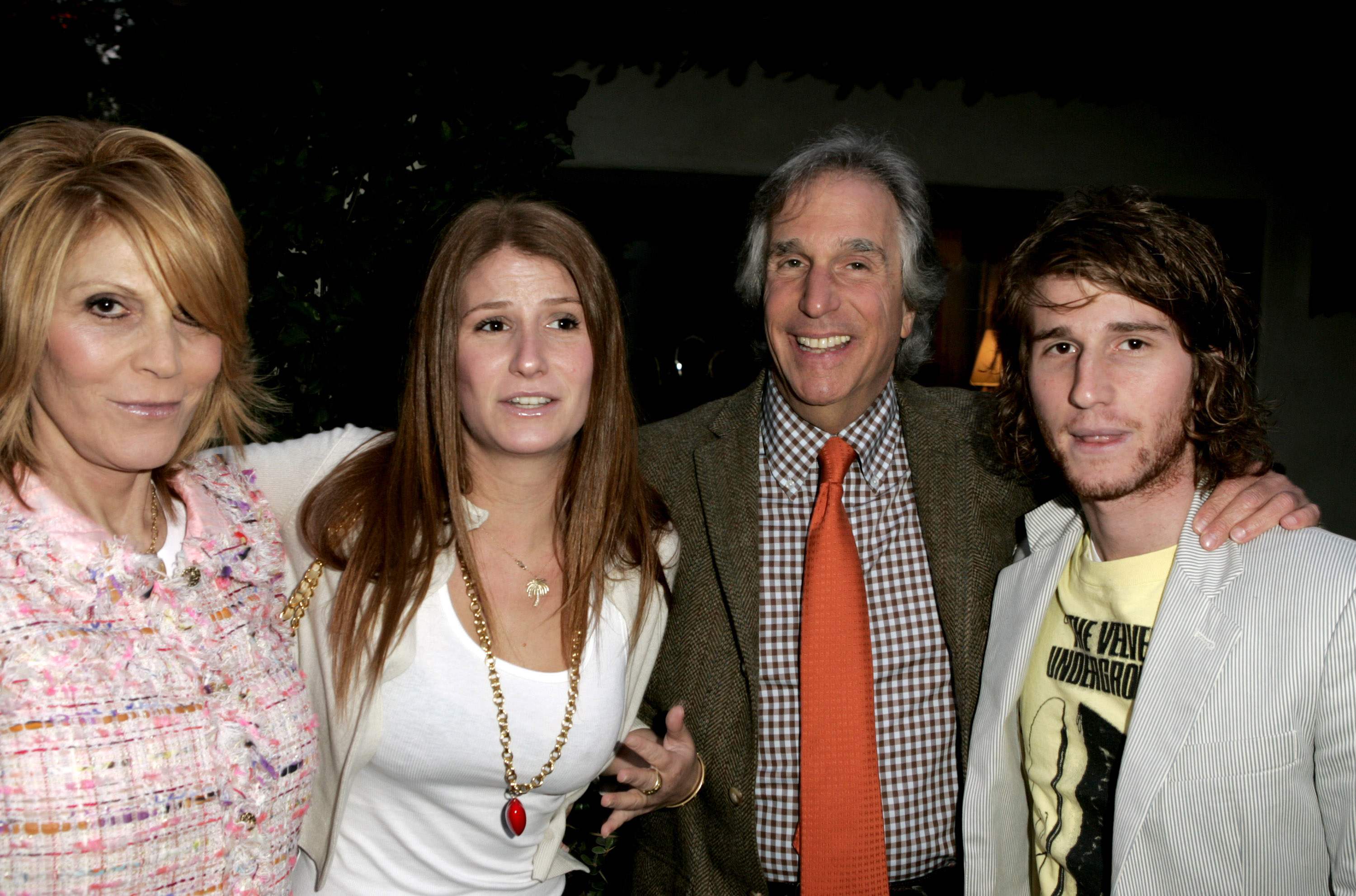 Henry Winkler, wife Stacey Weitzman and their children Zoe and Max Winkler attending the celebration of Cheryl Howard's new book "In The Face of Jinn" | Source: Getty Images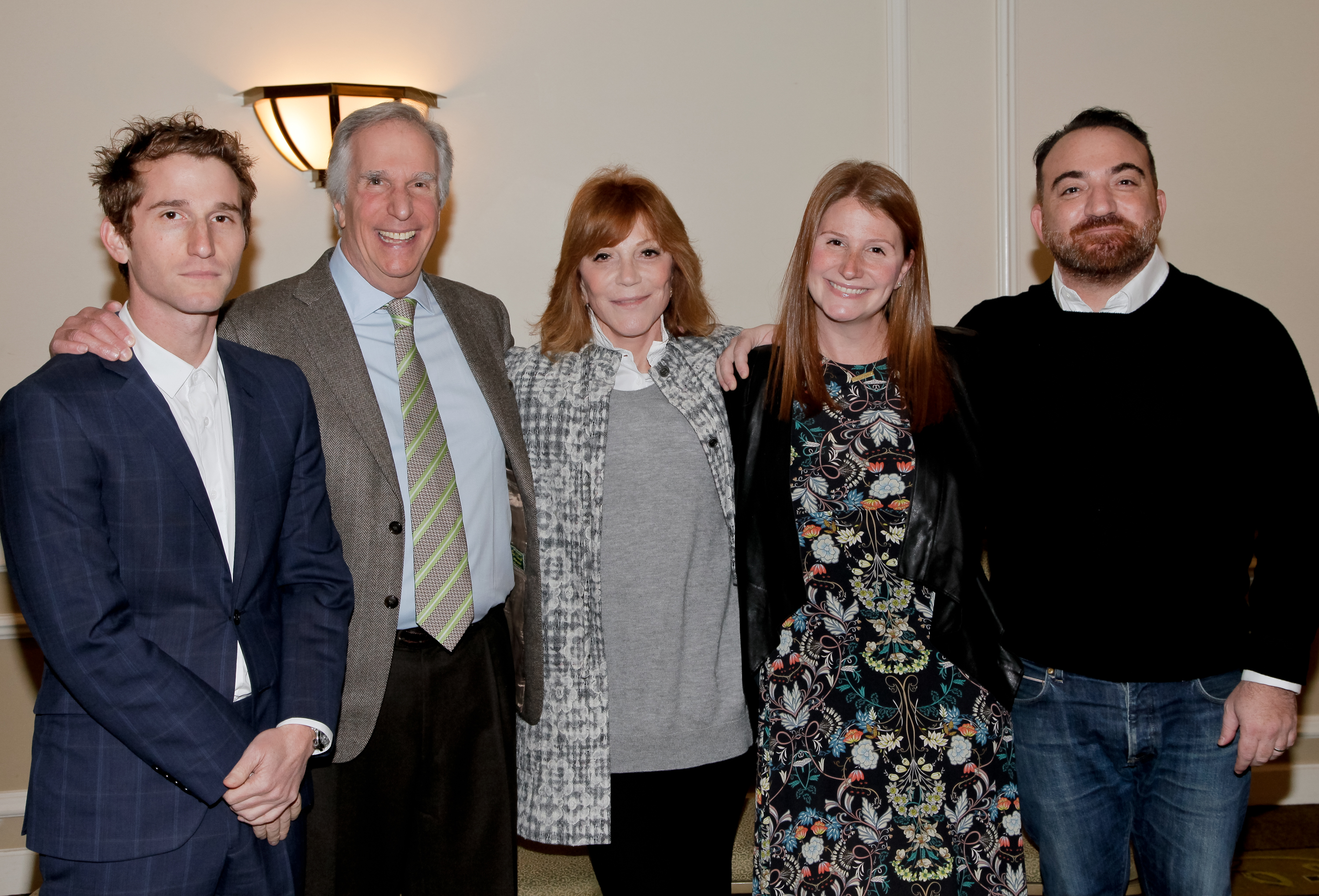 Max Winkler, Stacey Winkler, Zoe Winkler, and Jed Weitzman join Henry Winkler in celebrating his Pacific Pioneer Broadcasters Lifetime Achievement Award in Studio City, California, on January 29, 2016 | Source: Getty Images
Weitzman's unwavering support and belief in Winkler played a pivotal role in his journey. She provided the necessary foundation that allowed him to pursue his dreams and continue his remarkable career. Weitzman was not only his partner in life but also the backbone of their family, enabling him to believe in himself and overcome the challenges he faced.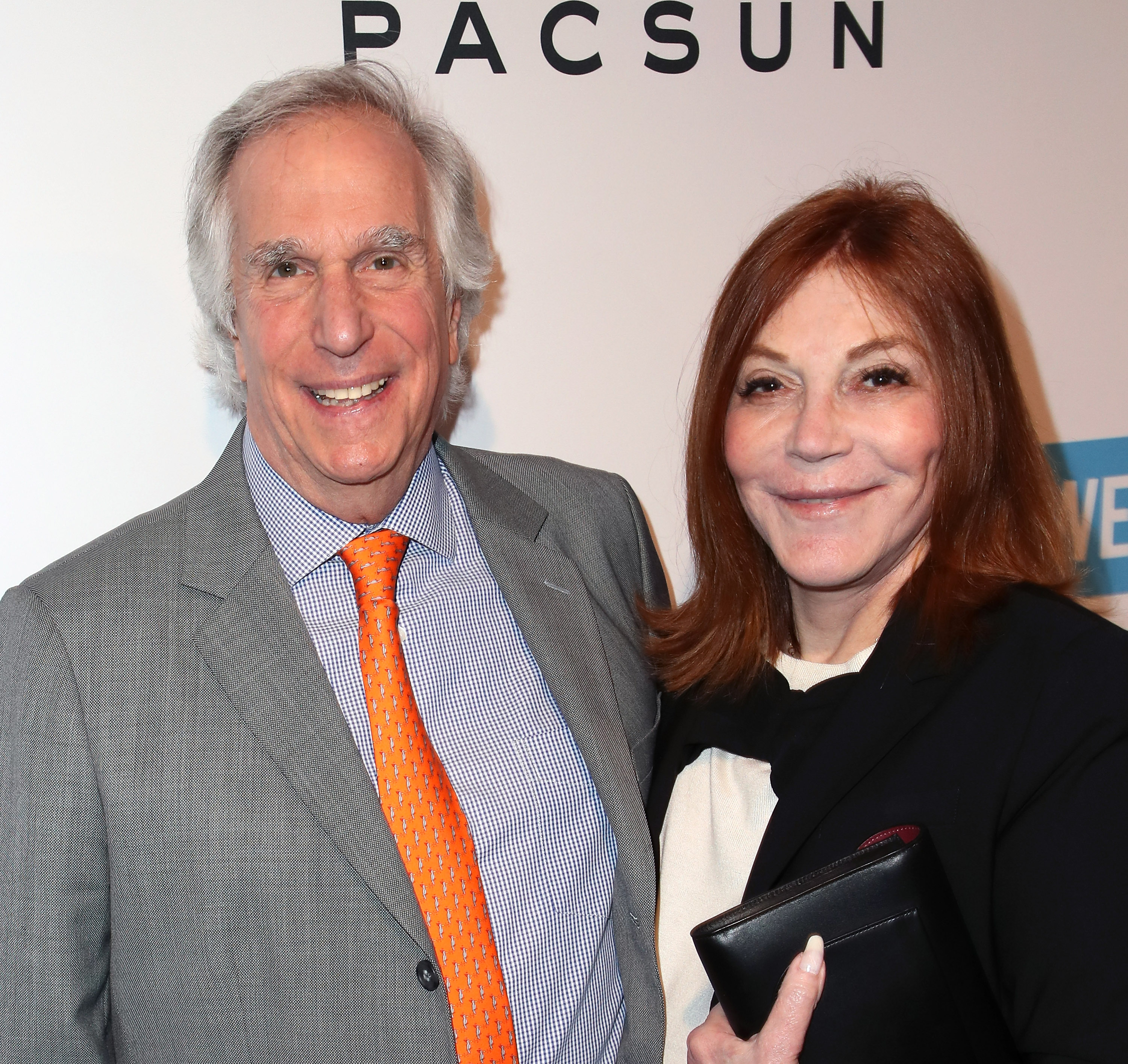 Henry Winkler and his spouse, Stacey Weitzman, seen at the Party with a Purpose x PacSun WE Day pre-event hosted at The Peppermint Club in Los Angeles, California, on April 18, 2018 | Source: Getty Images
As he continues to inspire, Winkler's journey is a story that transcends entertainment; it is a story of the human spirit's capacity to overcome adversity. His strength and determination leave an indelible mark on the hearts of those who have been touched by his work and his enduring legacy.