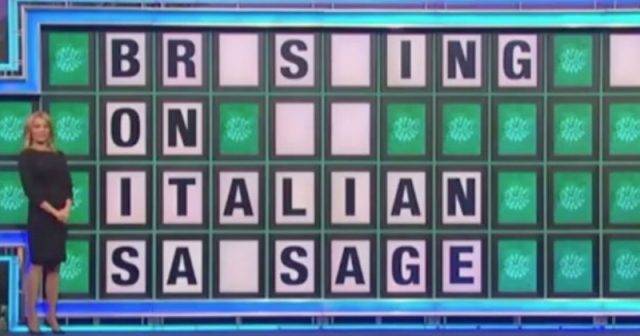 "Wheel of Fortune" watchers were startled, amused, and a bit incredulous after the iconic game show featured a puzzle that some thought was downright "kinky." While some saw the humor in it, others bemoaned the word choice, lambasting the family show over it.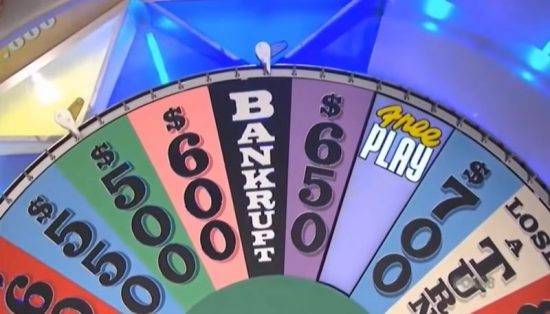 Wheel of Fortune (Photo Credit: Screenshot)
"Wheel of Fortune" — a popular game show which debuted in 1975, where contestants solve hangman-style puzzles containing hidden phrases by guessing letters one at a time after spinning a prize wheel — left viewers stunned and in disbelief after one puzzle seemed to allude to something "kinky." While many found it downright hilarious, others were none too pleased, scolding the producers for going too far on the iconic family show.
The puzzle, which was solved by contestant Adam Goodell, fell into a category called "before & after," where the beginning (before) of one common phrase is combined with the end (after) of another sharing the same word. Goodell was left with the clue: "BR-S-ING — ON — ITALIAN SA-SAGE," and he obviously understood that each word in the phrase related to the previous word in the puzzle by way of a popular phrase or word pairing to make up a new phrase.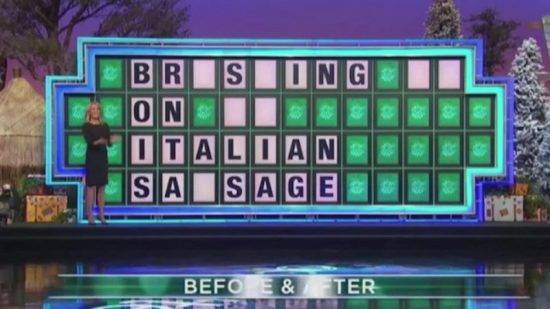 Wheel of Fortune (Photo Credit: Screenshot)
An example of a "before & after" puzzle could be "Newspaper Article of Clothing," where "Newspaper article" and "Article of clothing" — both being common phrases or word pairings — are combined into a new, nonsensical phrase. Another might be "Tickled Pink Floyd," where "Tickled Pink" and "Pink Floyd" are smashed together into a new phrase.
Unfortunately for "Wheel of Fortune," when Goodell unveiled the answer to such a puzzle on a Thursday night, many found the newly created phrase to be too risque. Combining "Brushing up on my Italian" and "Italian sausage" for the "before & after" puzzle, the answer was "Brushing up on my Italian sausage," according to Fox News. And, even the game show host was aware of the possible connotation.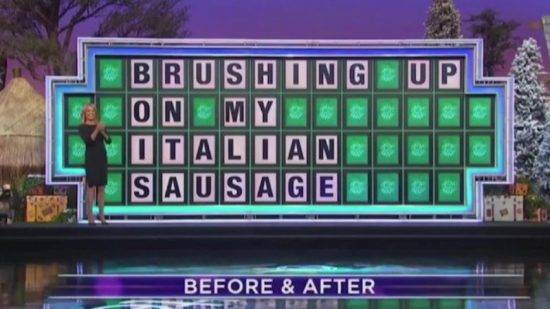 Wheel of Fortune (Photo Credit: Screenshot)
After Goodell correctly guessed the phrase, Pat Sajak looked surprised. "Yeah, that's it," he chuckled after the puzzle was solved. "It's a grilling expression!" Pat added with a smirk. Goodell earned $2,450 for solving the puzzle and was able to advance to the bonus round, The Sun reported, but it was the flurry of comments on social media that made headlines as viewers expressed both bewilderment and amusement over the situation.
"I found the 'Brushing up on my Italian sausage' puzzle on #WheelofFortune tonight hilarious for some reason!" said one.
"'Brushing up on my Italian sausage' may be one of the most lurid-sounding #WheelofFortune puzzles ever," said another.
"Bruh what intern must [have] made the puzzle 'brushing up on my Italian sausage' I'm dead," wrote a third.
With one viewer attributing the puzzle to an intern, another suggested it must have been devised by "Janice in accounting." Yet another deemed the puzzle "kinky" as another user quipped, "I think the jokes write themselves." Of course, not everyone was laughing. Some were seemingly deeply offended, with one such user saying their 85-year-old mother watched the program.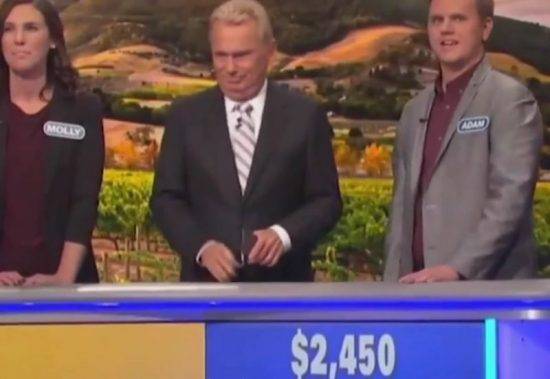 Wheel of Fortune (Photo Credit: Screenshot)
"This used to be a family show," tweeted one commenter, who said you "can't let kids watch it anymore," with another echoing the same sentiments: "Come on #WheelOfFortune this is supposed to be a family show!" Others were quick to blame the kerfuffle on "sick minds" as one comment pointed to the real "problem" — and it wasn't the show's producers, letting a puzzle in pour taste slide, with whom they found fault.
"#wheeloffortune it's the sick minds out there that automatically see something bad in things. This is obviously a before and after puzzle. Brushing up on my Italian, Italian sausage," the commenter suggested. So, is this the result of a "sick mind"? If so, does the sick mind belong to the creator of the puzzle, who allegedly went too far, or the "offended" viewer with the "kinky" perception of it? That's something you can decide.